#WittenborgFamily Attends AACSB Conference in Chicago
#WittenborgFamily Attends AACSB Conference in Chicago
Number of replies: 0
#WittenborgFamily Attends AACSB Conference in Chicago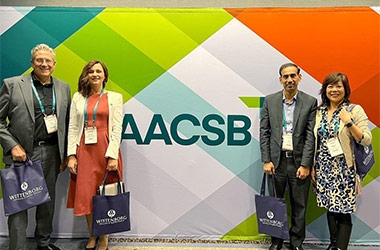 Catching up with friends and making new connections
In late April, Wittenborg attended the AACSB International Conference and Annual Meeting (ICAM), which was held in Chicago, Illinois from 23 to 25 April. The large event for the world's top business schools was attended by Wittenborg CEO Maggie Feng, President Peter Birdsall, Head of Business School Rauf Abdul and Assurance of Learning Manager Kriszta Kaspers-Rostás, who represented Wittenborg at the conference. The conference was attended by business and education experts from around the world, most of which were AACSB Business Education Alliance members like Wittenborg. The conference provided attendees with excellent networking opportunities, insightful lectures and chances to catch up with old colleagues, such as Wittenborg's former Vice President of Academic Affairs, Professor Ron Tuninga, who was also in attendance at the conference, having become AACSB Vice President and Managing Director of EMEA in 2022.
At the conference, Wittenborg had the opportunity to connect with other members of the AACSB Business Education Alliance and share their experiences with each other. The conference provided a unique platform for attendees to learn from experts in the field and gain new insights into the latest trends and developments in business education. The conference offered a range of educational sessions covering a wide array of topics that are important to business schools in 2023, including leadership, innovation and sustainability. Attendees were able to participate in interactive workshops and engage in lively discussions with their peers in a city with an extensive business history.
Chicago is a city that offers a wealth of resources and attractions that make it an ideal destination for business events. The city has a rich history of innovation, commerce and international culture that has made it a hub for business and education. Known as America's "melting pot" because of its incredibly diverse population, Chicago is a fitting place for Wittenborg, the most international Dutch business school, to visit. The city is known for its food, architecture and cultural attractions, which made it an ideal destination for the conference. Between workshops and meetings, attendees had the opportunity to explore the city's many restaurants, museums and parks, which provided a welcome respite from the conference's busy schedule.
ICAM is also the annual meeting of AACSB, an association where its members are annually asked to vote on important issues, such as raising or lowering membership dues, which was the topic this year. Peter Birdsall, as official representative of Wittenborg, voted in favour of raising membership dues by $630 per year. AACSB has the lowest membership fee of all business school associations that Wittenborg is part of, and its accreditation fees are also lower than others.
The Wittenborg representatives were delighted to have had the opportunity to attend the conference and learn from their peers. They were also able to make new connections and deepen existing relationships with other members of the AACSB Business Education Alliance. Each Wittenborg representative took with them new connections, insights into education as well as stronger ties with their fellow AACSB members. The AACSB International Conference and Annual Meeting was a resounding success. Wittenborg's attendance at the conference was a testament to the university of applied sciences' commitment to providing its students with the best possible education and preparing them for success in the global business arena.
WUP 17/05/2023
by Olivia Nelson & Peter Birdsall
©WUAS Press