Guest Lecturer Balances Research with Career as International Fencing Referee
Guest Lecturer Balances Research with Career as International Fencing Referee
Number of replies: 0
Guest Lecturer Balances Research with Career as International Fencing Referee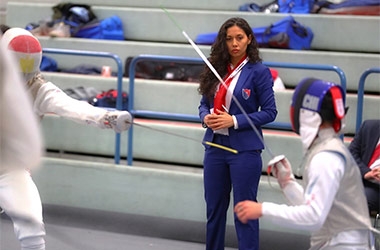 Diverse interests
On 2 May, Assoc. Prof. Dr Cansu Tor Kadioğlu delivered a lecture to Wittenborg's Amsterdam students on "Brand Visual Identities in Marketing", offering valuable insights into branding for students looking to start their own companies. In the lecture she detailed how to develop a catchy brand name and make an appropriate logo for a brand. "As a lecturer, I shared numerous examples of strong brands and demonstrated to students some artificial intelligence (AI) programmes that can aid them in creating a brand name and logo." She says that in her session, she placed an emphasis on practical skills with real-world applications for the world of branding and marketing, which they can apply to their future business ventures. Dr Tor Kadioğlu made sure her session was structured in a manner that could truly engage students. "The interactive nature of the session held in the Amsterdam campus provided students with the opportunity to engage with the content and ask questions."
Originally from Mersin, Turkey, she has a strong educational background in marketing and business research. "In 2020, I successfully completed my Doctor of Philosophy degree. My research interests are primarily focused on consumer behaviour, marketing and digital marketing," she explains. "Currently, I am engaged in research activities as a researcher at three different e-Cost projects (European Cooperation in Science and Technology), specifically related to migration diversity, gender equality and sustainability." She has found a home for herself in research and academia. "In 2021, I commenced my post-doctoral degree at the University of Twente in the Netherlands. Furthermore, I serve as a thesis supervisor at Erasmus Rotterdam University."
She continues: "I have edited four books which encompass a range of topics, such as Digital Marketing, Understanding Consumer Behavior, Consumer Behavior in the Post Pandemic Period, and Marketing Strategies in the Post-Pandemic Period. Additionally, I have co-edited three books that are dedicated to similar topics, such as Customer Complaint Management, Understanding Generation Z! HR and Marketing Research, and Marketing Research in Health Institutions." But research is not Dr Tor Kadioğlu's only passion in life.
Jumping the fence
In addition to research and teaching, Dr Tor Kadioğlu also works as a referee during international fencing competitions. "The achievement that I am most proud of is becoming an international fencing referee. This accomplishment is particularly special to me because it required a lot of hard work and dedication. Fencing has been a passion of mine since childhood, and being able to represent my country in the national team was already an achievement in itself," she explains. "However, I wanted to take my involvement in fencing to the next level and become an international fencing referee." She says the journey was arduous, but ultimately worth it.
"To achieve this goal, I had to undergo a rigorous examination process that tested my knowledge and expertise in the sport. Passing these exams was a significant accomplishment that allowed me to officiate at the international level and contribute to the sport that I love," she explains, continuing that the sport itself is not the only thing she loves about being a fencing referee. "Being a fencing referee has not only allowed me to stay involved in the sport but also provided me with opportunities to travel the world and meet new people.
"Overall, becoming an international fencing referee has been a pinnacle achievement in my life, and I am incredibly proud of the hard work and effort that went into achieving this goal," she affirms.
"I believe that balancing both my sporting and academic careers has been a challenging yet fulfilling journey. It has taught me the importance of perseverance, dedication and time management. As an educator, I always advise my students to pursue their passions, follow their dreams and work patiently towards achieving them. I believe that versatility is a key trait that can help individuals excel in their careers, and I encourage my students to explore their interests and pursue multiple paths simultaneously," she advises.
"Ultimately, my goal is to inspire and empower my students to become successful and well-rounded individuals who can make meaningful contributions to society."
WUP 15/05/2023
by Olivia Nelson
©WUAS Press