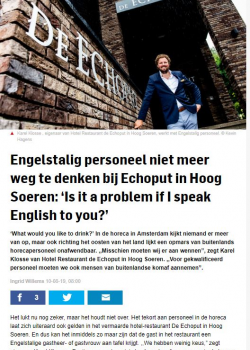 Growing Interest from Dutch Companies in International Students
https://www.wittenborg.eu/hiring-english-speaking-students-no-problem-5-star-hotel.htm

When the owner of the 5-star De Echoput Hotel & Restaurant, Karel Klosse, hired a Ukranian student from Wittenborg University of Applied Sciences to act as host in his Apeldoorn facility, he had no problem with the fact that his new employee spoke no Dutch.
"Eyebrows were raised when I proposed it to my team. An English-speaking host? But he was very presentable and I thought, why not? Luckily it worked out well," Klosse explains. The student in question was Ilia Kupris, who this summer at the age of 19 became Wittenborg's youngest graduate ever. Kupris has in the meantime been offered a position as junior manager at De Echoput, starting 1 September.  
According to Wittenborg's ...
Read the rest of this topic
(479 words)