Video: Watch the Opening of de Ruyterstraat 5 Student Complex
Video: Watch the Opening of de Ruyterstraat 5 Student Complex
Number of replies: 0
Video: Watch the Opening of de Ruyterstraat 5 Student Complex
https://www.wittenborg.eu/video-watch-opening-de-ruyterstraat-5-student-complex.htm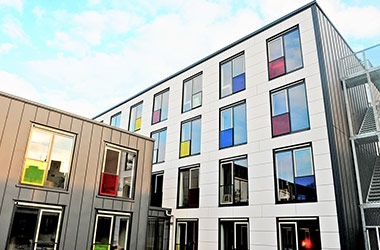 Relive the opening of Wittenborg's newest student apartment complex
On 11 January 2023, Wittenborg opened its new student apartments at de Ruyterstraat 5 in Apeldoorn. With this complex, the school offers accommodation to over 150 students in Apeldoorn and Amsterdam. At the opening, Apeldoorn alderman Henk van den Berge gave a heartwarming speech in which he expressed his appreciation for the hard work that has made this building possible. "Wittenborg has many students of different nationalities, the opening of the student houses really promotes Apeldoorn well and makes it a good place to study," he says. After cutting the traditional cake, everyone was invited to take a look at the vibrant and breathtaking results of a year of hard work.
The new student apartment complex brings Wittenborg closer to its goal of providing 600 additional housing units for students by 2030. If you want to know more about this housing plan, read the interview in de Stentor with Wittenborg CEO Maggie Feng here.
Wittenborg hopes everyone enjoyed the opening and wishes the new residents of de Ruyterstraat 5 much pleasure living in this amazing student complex. Enjoy the video.
WUP 20/01/2022
by Niels Otterman
©WUAS Press