Wittenborg Highly Commended for BGA Business School Impact Award
Wittenborg Highly Commended for BGA Business School Impact Award
Number of replies: 0
Wittenborg Highly Commended for BGA Business School Impact Award
https://www.wittenborg.eu/wittenborg-highly-commended-bga-business-school-impact-award.htm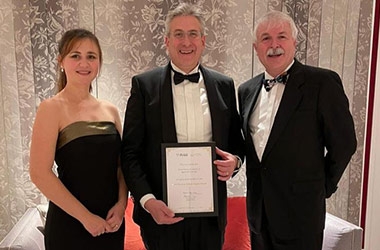 Recognising institutional talent
In December, the 2022 AMBA & BGA Excellence Awards were held in London, UK, with a guest list of over 200 business school representatives and judges. The evening, filled with fun, friends and exclusive networking opportunities, was particularly special, as it was the first in-person awards show since 2020. Judges were made up of AMBA board members, business experts, education leaders and managers. A total of six institutions were recognised for their excellence in providing business education across seven countries.
Among the guests were Wittenborg President Peter Birdsall, Assurance of Learning Manager Kriszta Kaspers and former Vice President of Academic Affairs Ron Tuninga, who was recently appointed to the AACSB. WUAS had been nominated in the category of BGA Business School Impact Award 2022/23. During the evening, Wittenborg received official high commendations for the BGA Business School Impact Award, which is meant to reward schools with significant societal impact. According to the AMBA & BGA:
"This award is designed to offer a platform through which BGA member, validated, and accredited schools can demonstrate their stakeholder impact – encompassing students and graduates as well as the wider communities in which they operate. Such impact can be demonstrated through programme design, social outreach programmes, alumni relations, careers services and so on."
 
Wittenborg's positive impact on the Apeldoorn region is especially pronounced, with its CEO Maggie Feng involved in initiatives such as LONKT, focusing on facilitating local entrepreneurship and borne from COVID-related logistical challenges to international trade. Meanwhile, initiatives such as the Tech Women MBA Scholarship in partnership with Women In Tech® Netherlands attracts women professionals from all over the world to obtain an MBA in business technology fields in the Netherlands, empowering them to take their education wherever they may go next. The school's commitment to lifelong learning, great alumni relations, sustainable economic education and continuous education are largely responsible for its nomination. The high commendations come as the school continues to grow and reach objectives not easily met by other private or public institutions, such as providing housing for incoming students and offering one of the most diverse environments in the Netherlands. The AMBA & BGA Awards shine light on an area of higher education where further growth is necessary, by praising institutions like Wittenborg who succeed in featuring societal impact as an integral portion of their strategic planning.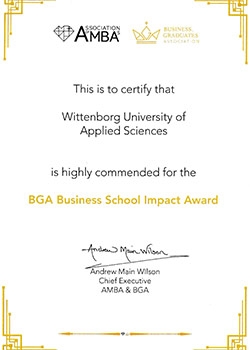 The award ceremony
The venue for the Excellence Awards Gala Dinner was located in the heart of London at the Biltmore Mayfair Hotel overlooking Grosvenor Square. The AMBA & BGA teams put a great effort into organising such a memorable event, with fine dining and a ceremony showcasing the great importance of business education achievements, recognition of leadership excellence and talents. Wittenborg was honoured to be counted among them and hopes to attend the next award ceremony.
"I very much enjoyed it all," says Kaspers. "The atmosphere, the food, the networking moments and the good company. Our delegate group was joined by Martha Claflin, wife of Ron Tuninga, Mr Chris Pole, who is a member of our International Academic Advisory Board, and his wife Jacqueline Mannix. Of course, the most anticipated part of the evening was the announcement of the awards. Our moment came in the category of BGA Business School Impact Award. I was very happy that WUAS got officially highly commended by AMBA & BGA in this category. I could not stop smiling for the rest of the evening. Hopefully this is the first of the many prizes that WUAS will receive as a business school promoting excellence in teaching and learning, making a difference in the lives of students and staff and achieving great social impact.''
Other winners
Two graduates of the MBA and Executive MBA Programme at Audencia, Wittenborg's future partner in Nantes, France, took home the award for MBA Entrepreneur and MBA Startup of the Year awards at the AMBA & BGA Excellence Awards 2022/23. Wittenborg commends these graduates of its partner institution and wishes them the greatest success in the future. TBS Education, also based in France, took home the Best Innovation Strategy. This was thanks to its initiative called 'The Blind Search,' which sees students pitch research projects to judges who are not able to physically see the student. The method serves as an entertaining way for professionals to demonstrate their skills without prejudice or judgement based on appearance.
The American University of Cairo's School of Business earned the best Culture, Diversity and Inclusion Initiative Award for its programme targeting women professionals' preparedness for high positions. Meanwhile, the School of Business, Guangdong University of Foreign Studies in China took home the award for Best CSR and Sustainability Initiative for Training Global Talent with CSR Competency and a Sense of Sustainability. Another Dutch school, the Rotterdam School of Management at Erasmus University, took home the Best Business School Partnership award for its partnership with the Dutch Brazilian Chambers.
The full list of recognised schools and winners may be found here.
WUP 22/01/2022
by Olivia Nelson
©WUAS Press
893 words