WUAS Project Week from the Perspective of Simon Boon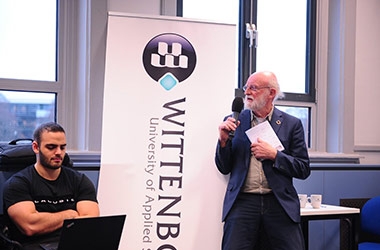 Apeldoorn social entrepreneur sees wonderful meeting of cultures
Wittenborg's Project Week SDG#3, 2022, on Good Health & Well-being concluded one month ago, so it is a good time for all participants to look back on these inspiring three days of lectures, workshops and a fantastic finale. Social entrepreneur Simon Boon moderated a panel discussion on the second day of Project Week. He led two sessions, one in the morning and one in the afternoon. Students took part in this lively discussion that covered tough topics such as drug addiction, smoking, suicide and depression. How did Simon Boon participate in this project week? And how did he look back on this panel discussion and hear so many different voices from students and staff?
Simon Boon led the discussion at the Spoorstraat building of Wittenborg. Back where, as president of the Gelre Association International, he attended the Sustainable Development Goals (SDG) Action Days open event last September. "I thought it was a wonderful meeting of cultures. With so many different backgrounds," says Boon. "And we shared everyone's perspective on health and well-being. What it is like for us, how we can shape it and give it a place in our lives and how we can assist each other and how to create a healthy world." Boon emphasises the responsibility students are given during such a project week: "Students have to think about the mental health of themselves, their group members and society. They have to think about what the business model might be that makes their project plan work," he says. "They have to do a lot." Boon found it a wonderful experience and really enjoyed the project week: "It's a nice, surprising, three-day event with guest speakers and staff from Wittenborg," he concludes.
Wittenborg thanks Simon Boon for participating in the project week and sharing his knowledge with students, faculty and staff at Wittenborg.
WUP 26/01/2022
by Niels Otterman
©WUAS Press