Netherlands says it "Values International Graduates" as it Lowers Salary Criteria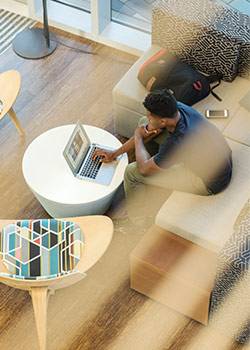 International Graduates in the Netherlands get Longer Period to Look for a Job at Lower Salary
The Dutch government has announced it will extend the lower salary criteria for recent international graduates from 1 year to 3 years. This means, they will have a longer period to look for a job at a lower salary. Under normal circumstances, highly skilled workers younger than 30 years must earn a gross salary of at least €3 381 to obtain a residence permit, but for recent graduates looking for a job, the minimum salary is €2 423 during their search year (12 months). This period will now be extended to 3 years.
The news comes after alumni from Wittenborg University of Applied Sciences petitioned the Dutch government to extend the search year visa from 1 to 2 years due as COVID-19 caused a scarcity of jobs in the labour market.  
The government has now responded to the petition with the following statement: "In the past few months there have been several requests to extend the search year because of the downturn in vacancies caused by the Corona crisis. Unfortunately, this is not possible because the conditions for the Search year are entrenched in law, a change in which is a lengthy and uncertain process. However, the government values the contribution of international students and highly skilled migrants to the Netherlands greatly. Therefore, the lower salary criteria to find a job as a highly skilled migrant is extended for all recent graduates up until 3 years after graduation in the Netherlands.
"In practice this means that if you don't find a job within the search year, you can continue looking for a job with the lower salary criteria from abroad up until 3 years after graduation. This will facilitate your search for a job as a highly skilled migrant in the Netherlands, even if you are not in the Netherlands when you are job hunting."
It also urged graduates to explore the idea of self-employment as an alternative. "The Netherlands welcomes people with the ambition to grow their innovative idea into a viable business. If you have the creativity and the energy, the Netherlands offers the self-employment permit and start-up visa, a residence permit that allows you to work on your idea without a work permit. For the start-up visa you will need to find a facilitator. Applying for a Self-employment permit or Start-up permit might be a good alternative to the search year, you can also try both."
It also pointed out that there are several options regarding the search year permit:
• You can apply for the Search year up to 3 years after graduation.
• If you get a job without having had the Search year visa, you still qualify for the lower salary criterium, on the basis that you were eligible for this permit up to 3 years after graduation.
• You can register at the UWV (Employee Insurance Agency) as a job seeker and receive job placement assistance from the UWV.
WUP 24/7/2020
by James Wittenborg
©Wittenborg University Press