Wittenborg Celebrates Academic Excellence on Oral Defence Day
Wittenborg Celebrates Academic Excellence on Oral Defence Day
Number of replies: 0
Wittenborg Celebrates Academic Excellence on Oral Defence Day
Rising to the Challenge of Oral Defence Day
Wittenborg University of Applied Sciences recently held its 'Oral Defence Day'. On 12 and 13 October, students from Apeldoorn, Amsterdam and Munich presented their Work Placement and GA/FP (Graduation Assignment and Final Project) oral defences in front of their academic supervisors, a second marker as well as a panel member.  
At Wittenborg, bachelor's students are required to complete an internship or ('work placement'), followed by the submission of a Work Evaluation Report (WER) and a subsequent oral defence known as the 'Work Placement Oral Defence'. This oral defence takes place every Thursday during the last week of each academic block. Additionally, both bachelor's and master's students defend their theses, known as the GA/FP Oral Defence.  
In her role as Education Support Administrator & GEB Secretary, Hanna Abdelwahab prepares the Oral Defence schedule, which has become an essential part of Wittenborg's academic calendar.  
"This year, students from various specialisations presented research projects that range from ethics, leadership and employee skills to marketing and brand image."  
According to Abdelwahab, it is interesting to note that there has been a surge in research topics related to technology (44%) such as Artificial Intelligence, Digital Marketing, Chatbots, Block-chain Technology, e-HRM and E-Inventory, as well as topics related to sustainability and green marketing, to name a few.
"The day underscored the importance of research of current topics and the quality of up-to-date education at Wittenborg."
Not only that, but for students it is the culmination of months of hard work, dedication and academic research. 
The last step before graduation  
For Wittenborg student, Amal Abi Orm, her Oral Defence on the carbon footprint of Wittenborg was even more challenging than the thesis itself. As an MBA student specialising in Finance at Wittenborg, Orm is now set to transition to a full-time role within Wittenborg's Finance Department.
According to Orm, the Oral Defence is not just about presenting findings but also about defending one's work. Following her mock defence, she identified areas that needed refinement in her final presentation. She also acknowledged the challenges of public speaking and offered advice to fellow students, saying: "The most important thing is to have confidence in your work."  
Kudakwashe Manhando, an imminent graduate in Entrepreneurship and Business Management from Zimbabwe, approached his GA/FP Oral Defence with commendable readiness, addressing essential aspects of farm worker motivation in Zimbabwean family-owned farms. In discussing the experience, he highlighted the intensity of the 15-minute presentation: "It was a bit nerve-wracking to begin with because I'm a bit of a perfectionist. I practised quite a lot and got through it in time."  
Maheen Chaudry's Work Placement Oral Defence, on the other hand, was a mix of nervousness and excitement.  
"I spent hours rehearsing my presentation. What struck me as particularly helpful was the fact that the schedule for the defence day was published two days in advance. This gave me enough time to fine-tune my presentation and reach out to mentors or peers for any last-minute questions and clarifications."
Another aspect that she found particularly intriguing was the composition of the evaluation panel. "Having an internal module teacher, who was familiar with our coursework, and an external member with an objective perspective made me feel like my work was being evaluated from multiple angles. It added a layer of thoroughness to the assessment."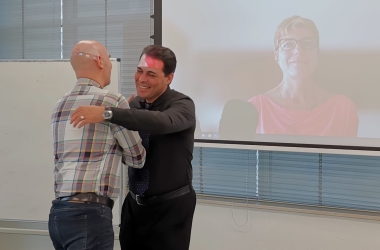 Putting their best foot forward  
For Oral Defence Day, students are expected to strictly adhere to several guidelines about their attire and presentation preparations.  
Bojan Georgievski, a Professor at Wittenborg, supervised two students in the area of sports management and another in Business-to-Business Marketing during this block. He said that students took their Oral Defence preparation very seriously and it paid off: "They put in a lot of effort in being at their best for the day."  
He further recognises that a student's Oral Defence serves as a significant milestone in their academic journey and is instrumental in their career development: "It raises their confidence level. In this block, the research was of the highest standards and the end result was more than satisfactory."  
Fahad Shakeel, an Assistant Professor at Wittenborg, oversaw the progress of five students during this academic block. Some of the key areas that students explored under his supervision involved various individual characteristics and strategies, aimed at enhancing organisational performance.
Shakeel acknowledged that it is natural for students to feel nervous as the big day approaches, but due to their high level of engagement and the pride they take in their projects, they often surpass his expectations.  
He also emphasised, "There is a key aspect at play here; the GA as a component of their academic trajectory involves a greater responsibility and a bigger role of students compared to other modules. There is a bigger sense of ownership from the start in terms of choice of topic, seeking active guidance and delivering an output - which is their contribution to the academic world. No other component gives such an opportunity or thrill."  
WUP 20/11/2023
by Erene Roux
©WUAS Press 
854 words