Wittenborg Family Members Join 2023 Apeldoorn Midwinter Marathon
Wittenborg Family Members Join 2023 Apeldoorn Midwinter Marathon
Number of replies: 0
Wittenborg Family Members Join 2023 Apeldoorn Midwinter Marathon
https://www.wittenborg.eu/wittenborg-family-members-join-2023-apeldoorn-midwinter-marathon.htm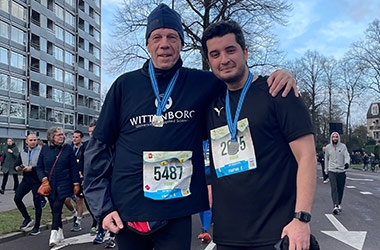 "Running a marathon can be a liberating experience"
On Sunday, 5 February, Wittenborg family member and Rymotec director Harry Maatjes, WUAS alumnus Babak Moghadam and Wittenborg MBM student Ibrahim Wahab participated in the 2023 edition of the Apeldoorn Midwinter Marathon. They all participated in the so-called "Acht van Apeldoorn," an annual marathon consisting of 8 kilometers running through the city of Apeldoorn. Maatjes finished the marathon in an impressive 49 minutes and 18 seconds, followed by Moghadam who crossed the finish line after 51 minutes and 17 seconds. But the fastest Wittenborg member was Wahab, who crossed the finish line in just 49 minutes and 11 seconds. Despite the cold weather, the runners were not deterred and the event was a great success. 
 
The Apeldoorn Midwinter Marathon is one of the most unique marathons in the world because it takes place in the heart of the Dutch winter. The marathon, held annually, attracted hundreds of runners from around the world who were eager to complete the challenging course. The course, which winds through the beautiful city of Apeldoorn, presents a number of challenges for the runners, including steep hills, slippery roads and strong winds. Despite these challenges, Maatjes, Moghadam and Wahab were able to rise to the challenge and complete the race with determination and spirit. 

The marathon, which had its first edition 49 years ago, consists of several different runs with different distances, such as the Night Run (4 km), Kroondomein Het Loo Marathon (42 km), Mini-Marathon (16.1 km), Asselronde (25 km), Business Run (for business partners and colleagues, 8 km), Kids' Run (for children between 4 and 12 years old, 500 m) and finally the Acht van Apeldoorn (8 km). The course starts and ends at the beautiful and green Loolaan.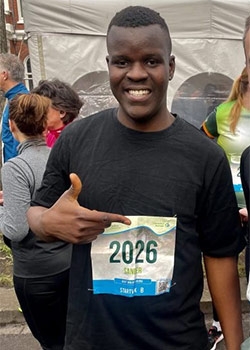 Running as a community
After two entries for the marathon, both of which were cancelled due to covid restrictions, it was finally Moghadam's first run. He sees the importance of signing yourself up for an event like a marathon: "Running a marathon may seem like a hard job in itself, but with enough patience and dedication, that thought can become a reality." He encourages everyone to participate in a marathon and push past their own limits. "If you can break out of this thought pattern and put enough effort into your training, running a marathon can be a liberating experience. So go ahead and take that first step."
For Harry Maatjes, participating in the marathon is a fantastic group experience: "On the one hand, participating in such city runs gives me the feeling of being part of a large group of people, for whom it is important to be healthy. On the other hand, I meet colleagues in a completely different environment than at work. Moreover, I want to continue running, or jogging, for years to come," he says. "Every Acht van Apeldoorn is a challenge for me to cross the finish line as the fastest Wittenborger again. I challenge every Wittenborger to participate next year, so that we form a community outside work too." 

For Ibrahim Wahab, it was his first marathon in the Netherlands and the experience pleased him: "It felt great to see people outside cheering, and the band with their motivational beats gave all the runners the energy they needed. The atmosphere was very positive," he explains. Although his time was impressive, Wahab knows he can go even faster: "My original goal was to complete the race within 45 minutes, but 4 minutes and a few seconds slower is not so bad," he says.
"During the last 3km, I passed some photographers on the course. I kept trying to pick up my pace when I saw them. For a few of them, I even found the energy to jump up for a great photo."  
Wahab wants to thank the marathon organisers for such a well-organised race and he says he will definitely participate again. WUAS congratulates the participating family members from Wittenborg on their fantastic finishing times.
WUP 30/03/2023
by Niels Otterman
©WUAS Press