Practical Advice: The National Student Survey
Practical Advice: The National Student Survey
Number of replies: 0
Practical Advice: The National Student Survey
https://www.wittenborg.eu/practical-advice-national-student-survey.htm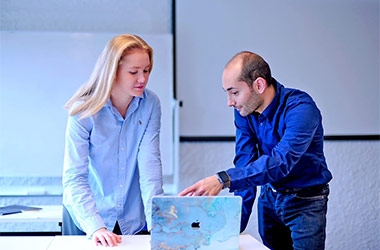 Let your voice be heard
This January, all students and some recent graduates in the Netherlands will receive an email containing an online questionnaire regarding their experience while studying here. The National Student Survey (Nationale Studenten Enquête, NSE) is a regularly conducted survey that contains questions about the quality of the programme you are currently enrolled in, as well as your institute of higher education. This year, the survey will take place between 17 January and 13 March.
All students will be asked for their opinions on aspects of their respective programmes. This includes topics such as general satisfaction, guidance and counselling, organisation of teaching, study support and relevance to your professional field. Additionally, institutions may add in six extra subjects to the questionnaire in areas such as scheduling, study load, class size, internships, equality of treatment, remote learning and international aspects. The purpose of the NSE is to gain insight into the experiences of students in the Netherlands, and to identify areas where improvement is possible. In previous NSEs, students reported that studying in the Netherlands is a majorly positive experience, with 71% of responding students being (very) satisfied with their studies in 2022. For an example of the questions you will find in the 2023 survey, you can download the 2022 survey in English here.
To incentivise students to participate, those who complete the NSE up to and including the last question will be automatically entered into a raffle for exclusive prizes. Last year, rewards included a laptop, noise-cancelling headphones and BOL.com gift cards. Winners are to be notified via email in late March. To learn more about 2022's prizes, you can visit this webpage. If you lose the personalised link sent to your email but still want to participate, you can find out how to have a new link sent to you at this webpage. Do you have any questions about filling in the questionnaire? You can send them to student@nse.nl for help.
Background
The NSE is organised by the Dutch Ministry of Education, Culture and Science-funded organisation Studiekeuze123. This is a collaboration between the Dutch Ministry of Education and the student organisations LSVb and ISO, which are related to the Universiteiten van Nederland, Vereniging Hogescholen and the NRTO, while the actual research is carried out by MWM2, a Dutch research institute. To demonstrate the integrity of the research, the organisation Studiekeuze123 follows up the publication of the NSE's results with a report on research accountability, which you can read more about here. This year, Wittenborg University of Applied Sciences' BA, MSc and MBA programmes are being evaluated. WUAS makes up one of the 75 participating universities and universities of applied sciences in the NSE. To see all the institutions involved this year, you can download the list here.
Wittenborg University of Applied Sciences is confident that its students' responses to the NSE will reflect the positive environment and quality education offered by its staff and executive team.
WUP 06/01/2022
by Olivia Nelson
©WUAS Press
546 words