Wittenborg Hosts 2nd INFLUERA Partner Meeting at Brinklaan Campus
Wittenborg Hosts 2nd INFLUERA Partner Meeting at Brinklaan Campus
Number of replies: 0
Wittenborg Hosts 2nd INFLUERA Partner Meeting at Brinklaan Campus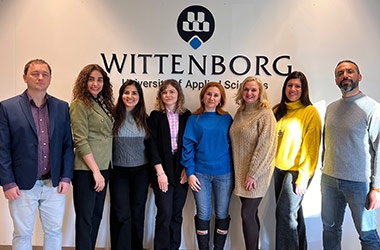 All is going according to plan
On Monday, 12 December, Wittenborg University of Applied Sciences invited its partners to the INFLUERA Project for the programme's second official partner meeting. The meeting is also the last to be held in person. Representatives of Fundacja Eduvibes from Poland, Social Cooperative Enterprise Drosostalida from Greece and Tum Engelliler Kultur Sanat Dayanisma ve Spor Dernegi from Turkey came together at Wittenborg's Brinklaan campus in Apeldoorn to discuss the project's trajectory and its success so far. 'The meeting went well,' affirms Wittenborg's EU Project Manager Aydan Ismayilova. 'Everything is on track, we are happy with how things are going so far, and every stakeholder is on the same page.' Dr Somayeh Mouri, Assistant Manager of Wittenborg's Research Centre, also represented the school at the meeting. Following the meeting, Mouri praised the 'fantastic' results of the project.
INFLUERA is an Erasmus+ research project seeking to map out professional pathways for digital influencers. As digital influencing is a rising profession among people under the age of 30, INFLUERA's partners understand the need for reliable and thorough research into how to obtain professional success in such a line of work. Data for the research has been derived via methods such as surveys and interviews. 'According to results on the impacts of social media on society and careers, the partners will try to assemble the valuable results into a tool kit, and help new social media entrepreneurs to learn about posting strategies, communication skills, and content making,' explains Mouri.
Thus far, various insights into the nature of digital influencing have been gained; for example, despite the rise of platforms like TikTok, researchers found that Instagram is still the preferred platform of most influencers interviewed. 'The survey results made a clear and comprehensive horizon for the partners to know which social media skills are more significant and which areas are of concern for the influencers, including macro-influencers,' Mouri says. 'During this meeting, Aydan affirmed that influencers' technical skills needed more focus.' The research endeavour marks Wittenborg Research Centre's first role as a beneficiary to such a project, rather than coordinator. 'One of the striking points about Wittenborg's interviews results in this project is the diversity and internationality among interviewers, which gives us this chance to have an open horizon for understanding multicultural influencers' views,' Mouri notes.
During the meeting on the 12th, stakeholders brainstormed about how to use insights gained so far to scale INFLUERA into a larger project application and considered topics for a new proposal that is localised on a national level. Proposed topics – which are yet to be finalised – include Digital Marketing Campaigns, Digital Communication, Digital Entrepreneurship and Technical Skills. Each partner agreed to create national reports based on their research with the final report prepared by Fundacja Eduvibes. Partner peer reviews are to be completed by 30 March, 2023, with the deadline for the final report set for the end of April. INFLUERA's final research outputs will be uploaded to the project's YouTube channel. From March to June, each partner will additionally be responsible for organising local conferences with approximately 25-30 attendees.
INFLUERA's first partner meeting was held back in July in Athens, Greece. The next INFLUERA partner meeting will be held virtually and is scheduled for 17 January, 2023.
WUP 16/12/2022
by Olivia Nelson
©WUAS Press