Working his Way Up: Wittenborg Graduate Becomes Manager at Hotel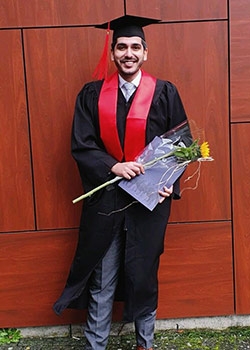 Maaz Awan Highlights the Importance of Working Hard and Making Connections
"When you get a job, you have the opportunity to show people that you are a good professional and that leads you to other opportunities, such as promotions. The secret is hard work and being loyal. Sometimes, this can even result in good recommendation letters when you are changing jobs," says Wittenborg graduate Maaz Awan, currently working as an assistant operations manager at the Odyssey Hotel Group.
Having obtained an MBM degree in International Hospitality Management at Wittenborg, Awan is originally from Pakistan and has been living in the Netherlands for almost eight years. Initially, he moved to the country to study for a bachelor's degree in International Hospitality Management at NHL Stenden University of Applied Sciences in Leeuwarden.
However, after completing the programme, he felt the need to go on learning new things and growing professionally. The graduate points out that he decided to join Wittenborg shortly before the COVID-19 pandemic reached the Netherlands. "It ended up being the ideal moment for starting a master's programme, because there was not much going on in terms of work, since the hospitality sector was hit hard by the pandemic. Wittenborg had an advantage over other institutions because its entry dates were more convenient for me, but I was also attracted by the school's diversity and international character and, on top of that, its fees were comparatively lower than other places."
According to Awan, pursuing a master's programme is a much more intense and eye-opening experience than studying for a bachelor's degree. "It is a lot of information and you have to catch up with it. Although I had an academic supervisor, I also had to be my own supervisor and push myself by studying on a daily basis. During the master's, I was treated like a grown up and a professional. I learned how to work independently and I developed my creativity and other skills. The teachers made it possible; they did not only teach me from an academic point of view, they also taught me how to be a better professional."
Moving Forward
While studying for both his bachelor's and master's degrees, Awan had the opportunity to do several internships as well as work regular jobs in the Netherlands. He says that the professional experiences he had while studying at Wittenborg were particularly important because they enabled him to connect theoretical knowledge to practice.
However, the graduate highlights that getting his first job – at the time when he lived in Leeuwarden – was not easy. "I went to every café, every restaurant and nobody would give me a job because I did not speak Dutch; it was really frustrating. But I did not give up, and eventually I got an internship at a restaurant. You will have disappointments in life, but there is also sunlight and it will be there if you do not give up."
While working for the restaurant, Awan took the opportunity to learn Dutch by interacting with his colleagues – who could not speak English – as well as watching Netflix series with Dutch captions and listening to the local radio. Moreover, he started networking and making connections which, according to him, ended up being crucial for the progress of his career.  "You just cannot be hesitant when approaching people because you will never know if they will tell you 'yes' or 'no' unless you give it a try. By making new connections, I soon had the opportunity to start a traineeship at another company and that enabled me to gradually get better positions," he points out.
Since March 2022, Awan has been working as an assistant operations manager at a hotel that is part of the Odyssey Group. In this position, he is responsible for ensuring that everything is running smoothly, including the kitchen, front office and food and beverage department, among other areas. The graduate says that being in a leadership role is a rewarding but challenging experience, adding that his main goal is to become a general manager in the future.
"I have always loved being a leader, and when I was a kid I used to be the captain of my school's football team. At work, I never tell my colleagues that I am the boss and that they just need to do what I tell them. Instead, I always try to be their friend and a colleague on their level. Another great thing is that you do not need to stick to one department. You can go through multiple departments and implement your ideas. But this position involves great responsibilities and also demands that you work long hours, which can be difficult at times."
Highlighting that he often has the opportunity to apply the knowledge he acquired at Wittenborg to his work, Awan encourages current and future students to take their studies seriously. "In addition to that, be honest to yourself, do not stay in a bubble and try to be always open for opportunities. Do not be scared to talk to directors if you are watching a guest lecture or visiting a business during a school activity. The more connections you make, the more opportunities you will have," he stresses.
WUP 22/09/2022
by Ulisses Sawczuk
©WUAS Press