Amsterdam HE Institutions Evaluate Diversity Agreement One Year After Signing
https://www.wittenborg.eu/amsterdam-he-institutions-evaluate-diversity-agreement-one-year-after-signing.htm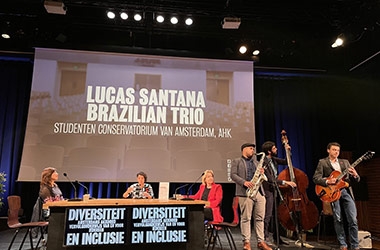 Amsterdam HE Institutions Evaluate Diversity Agreement One Year After Signing
In September 2020, representatives of a number institutions of higher education with locations in Amsterdam – among them Wittenborg – signed the "Education Agreement", a pledge that committed them to ensuring that higher education gets more inclusive, diverse and more societally engaged.
Amsterdam is one of the most diverse cities in the world. Nonetheless, according to the signees it had become "painfully obvious" that inequality is a reality in the labour market, the art and culture world, the media, the political stage and the education sector, and that "it manifests itself in racism and discrimination against people of colour".
With the Education Agreement, the institutions sought to commit themselves to concrete, measurable goals to fight the lack of equal opportunity and prioritise representativeness and inclusion. The five goals that were outlined in the pledge are:
Promoting equal access and equal opportunity
Fighting against the lack of representation and diversity in management, academic staff, support staff, students and advisory boards
Critically looking at current academic content and informal production of knowledge and how it is shared as well as including a variety of perspectives
Establishing better contact with the city as a learning environment
Making everyone in the academic community feel at home and safe
A little more than a year later, on 3 November, representatives of said institutions of higher education came back together in Pakhuis de Zwijger in Amsterdam to assess the progress that has been made. People were able to attend the event physically as well as via a live stream. The programme included speeches and roundtable discussions by education professionals, diversity experts and students, as well as performances by a jazz trio comprised of students of the Conservatorium of Amsterdam and by fourth-year dance students from The Academy of Theatre and Dance.
Wittenborg was represented by its CEO, Maggie Feng, who also spoke at the event. According to Feng, "Amsterdam is becoming more diverse than before, but inclusion is not an automatic result of a diverse society. To make everyone feel welcome and at home, all institutions need to work hard and work together. Not only institutions of higher education, but institutions of all levels should work together to make schools more inclusive, both in Amsterdam and throughout the country."
A recording of the event can be watched
The speakers were:
Maggie Feng – CEO, Wittenborg University of Applied Sciences  
Thea van Schoot – Senior policy advisor, chief diversity officer, UvA
Arno Geurtsen – Director, college of management ROC TOP  
Jopie Nooren – Chair, college of management HvA  
Shivan Shazad – Policy advisor, SER Diversiteit in Bedrijf  
Annet Lekkerkerker – Chair, CvB AHK  
Machteld de Jong – Lecturer in diversity, InHolland  
Danny Soekarnsingh – Diversity officer, Vrije Universiteit  
Nagaré Willemsen – Founder Black Student Union, alumnus Gerriet Rietveld Academie and Sandberg Instituut  
Isabelle Britto –Research assistant, The Black Archives
Natali Azar – Student communications, HvA and staff member, Students That Matter  
Diana Bachour – Master of art education, AHK and project leader, Derde Ruimte
WUP 11/11/2021
by James Wittenborg
©WUAS Press