Vigil for Mahsa Amini Led by Iranian Students, in Amaliapark, Apeldoorn
https://www.wittenborg.eu/vigil-mahsa-amini-led-iranian-students-amaliapark-apeldoorn.htm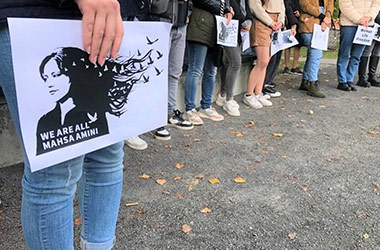 'We Deserve a Normal Life'
On Thursday, 22 September, Iranian students of Wittenborg arranged a silent protest to commemorate the life of Mahsa Amini, a 22-year-old Kurdish Iranian woman. Amini is thought to have been murdered on 16 September by the so-called 'Iranian Guidance Patrol' – also widely known as the 'morality police. Her killing is said to have occurred while being reprimanded for allegedly wearing her hijab improperly according to an increasingly strict interpretation of Sharia. "As usual, Iran's government denied killing her," says Bahar, a student who helped organise the manifestation. The vigil held for Amini in the Amaliapark was also meant to voice opposition against Iran's oppressive government.
Starting from 18:00, around 50 people – mainly Iranian members of Wittenborg's student body – gathered at the Amaliapark. Those present brought posters, flowers and candles with them. "They were all so sad and so angry," Bahar describes the emotional scene. "Some students cried, hugging each other. One other student and I gave a speech during the ceremony." She points out that while those present were mostly from Iran, people from other countries also joined in. "It is noteworthy that some of our peers from other nationalities joined us in the ceremony, which meant a lot to us. We all thank them."
A journalist from the regional newspaper 'De Stentor' was also present to take photos and report on the protest. "This helped our voices to be heard even more," Bahar affirms.
'I was so Angry'
Bahar says she was spurred by her own outrage to make her opposition known to the world. "I wanted to do something. I was so angry, so I decided to organise a memorial ceremony for Mahsa so we Iranians could gather together and be with each other in this sorrow. More importantly, I wanted the world to see us, to know what is happening in Iran, to know what we are living through in Iran."
"We had enough of this dictatorship. We deserve a normal life. We deserve simple human rights, which the regime took from us all these years," Bahar continues. "I believe many people in Iran thought the same and started protesting in the street." The protest in the Amaliapark is a reflection of worldwide outrage over Amini's death, which has resulted in enormous, volatile demonstrations across the globe. Bahar says within Iran, protests have been met by repression, with deaths and shootings attributed to the authorities. On Saturday, 24 September, hundreds of people in the Netherlands joined broader protests condemning the government in Iran.
"We want the world to stop negotiating with the regime in Iran. We want the world to stand by us to free our country. We all deserve to live free and not in fear."
Despite the solemn nature of the protests, Bahar is optimistic for the future of her homeland. "I know this time something is different. I believe we all feel the same. The whole world heard us."