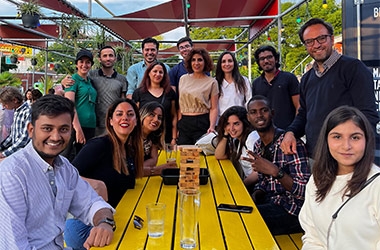 Social Gathering Brings Together 25 Students at TonTon Club
The evening of 24 June was filled with fun, lively conversations and exciting games for 25 Wittenborg students who attended the social gathering organised by the school at TonTon Club in Amsterdam. Originally planned as a Summer Picnic, the event had to be moved to the café due to the rainy weather, and students were provided with free drinks by Wittenborg. Located in the heart of the Dutch capital, TonTon Club is famous for having a great variety of pinball machines and arcade games for all kinds of players.
Wittenborg's Support Office & External Relations Coordinator Xiaoli Wu, who organised the activity, pointed out that the main goal of the event was to give students the opportunity to socialise outside school and have some quality time together. "Although the picnic ended up becoming another event, everyone enjoyed it a lot and it definitely fulfilled our expectations. It was a pleasant evening in which students met and talked about their lives, hobbies and holiday plans, and also played games to release the pressure after their exams."
For student organiser Isaac Pattison, who is pursuing an EBA degree, playing games with other people is a fun way to make new friends. "We had a lot of fun and it was great meeting new people and learning more about their cultures, as well as playing games with them. I really enjoyed playing this car racing game, it was definitely my favourite."
According to associate professor Dadi Chen, the event gave participants the chance to have interesting and insightful conversations. "One of my students talked to me about her homesickness and I told her and other students some of the experiences I had when I came to the Netherlands for the first time. Interactions like this are always enriching for everyone," he said.
MBA student Amal Orm said that she had an amazing time at the gathering, adding that activities of this type make students feel like they are actively involved in the Wittenborg community. "For me, the games were the most enjoyable part, and I had a lot of fun when playing a dancing game with my friends, because I like dancing a lot. These are the kind of memories that you will keep with you forever," she stressed.
WUP 28/7/2022
by Ulisses Sawczuk
©WUAS Press