Inspiring Event 'Noticing Chances' Attended by Wittenborg Staff Members
Inspiring Event 'Noticing Chances' Attended by Wittenborg Staff Members
Number of replies: 0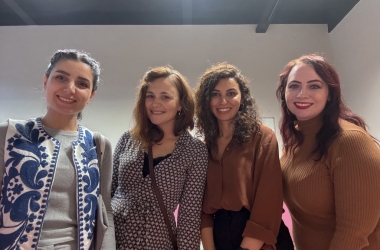 Activity Promoted by Female-led Organisation Workmode Together with the Municipality of Apeldoorn
On 12 October, Wittenborg participated in the second event promoted by Workmode in collaboration with the Municipality of Apeldoorn. This time, the dynamic meeting was held with the theme 'Noticing Chances' and featured two seasoned speakers: entrepreneur Carlijn Plujmakers Emmen and business consultant Jolanda ter Maten.
While Emmen spoke about her many companies, how she started and how she takes bold steps without being led by fear, ter Maten discussed the changes brought about by AI and their potential impacts on our work, both positive and negative.
Approximately 20 women attended the session, including Wittenborg Senior Communications Manager Sinem Dosdogru, Research & Education Coordinator Selina Hinten-White, External Relations & Events Manager Sophia Faraji and Head of Education Development and Quality Management Kriszta Kaspers-Rostás.
In addition to learning from Emmen and ter Maten's experiences, participants had the opportunity to network and exchange knowledge. This was the second meeting of this series conducted in Apeldoorn by woman-led organisation Workmode. The first session, addressing the theme of gender equality, took place in June. The idea is that these events will be conducted multiple times per year.
Wittenborg Senior Communications Manager Sinem Dosdogru described the event as inspiring. She added that she was particularly amazed by the story of Emmen, who initiated multiple businesses from such a young age, driven purely by the belief in her ideas. "What struck me the most was her fearlessness; she didn't let fear or insecurities hold her back. Instead, she took bold steps and embraced learning along the way."
Dosdogru highlighted that events like this are important because they bring together talented women from diverse backgrounds.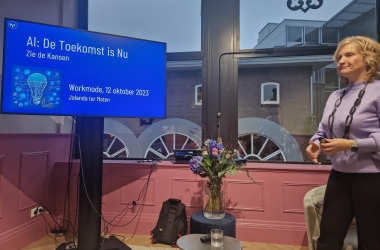 "These gatherings are not just about learning and networking; they also serve to highlight our shared experiences and our similarities. Witnessing that all women there have similar questions, challenges and insecurities, and that we still do what we do, is empowering. We can relate to each other. Moreover, seeing that there are so many successful women in the region is incredibly motivating. Workmode's meetings and other similar events create a sense of community among female professionals, building connections and collaboration that can lead to meaningful opportunities for everyone involved."
External Relations & Events Manager Sophia Faraji commented that, for her, the key takeaways from the meeting are the significance of seizing opportunities, being aware of inclusivity and staying informed about the latest technology trends. Faraji said that she took advantage of the networking opportunities at the event, stressing that it is a great platform to connect with like-minded female professionals in Apeldoorn.
"Events like this provide a platform for professionals in the region to gather, network and exchange ideas, fostering a sense of community and collaboration. On top of that, they bring in knowledgeable speakers who can share insights on relevant topics, helping professionals in Apeldoorn stay updated with the latest trends and developments. And these meetings can also inspire and empower local professionals, encouraging them to actively participate in and contribute to the growth of their community. Overall, events like this play a vital role in enriching Apeldoorn's professional landscape and promoting regional development," she concluded. 
WUP 14/11/2023
by Ulisses Sawczuk
©WUAS Press
558 words