Wittenborg CEO Maggie Feng Participates in Brainport Event
Wittenborg CEO Maggie Feng Participates in Brainport Event
Number of replies: 0
Wittenborg CEO Maggie Feng Participates in Brainport Event
Meeting Gathered More than 120 Professionals and Featured Inspiring Activities and Discussions
In a dynamic intersection of academia and industry, Wittenborg CEO Maggie Feng actively participated in the Brainport event held on 1 November in Eindhoven. Titled 'Education & Business Collaboration', the meeting drew attention to the crucial link between education and the business sector, exploring innovative ways to enhance collaboration.
The Brainport Industries Campus, where the event took place, served as a vibrant backdrop for the gathering. Established in 2019, it is an innovation, business and education-focused hub that currently counts more than 50 companies, 2,000 students and 2,000 dedicated employees.
The primary focus of the meeting was on strengthening ties between educational institutions and companies, addressing challenges and fostering sustainable relationships. Over 120 education professionals attended the activity, joined by industry leaders and government representatives.
Feng commented that collaboration between the education sector and the industry is high on the agenda for both sectors.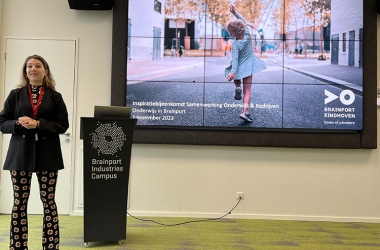 "However, both parties are still working hard to establish connections and secure these relationships in a more sustainable way. Some resources that serve this purpose are guest lectures at primary schools, day-experiences for high school students and internships for higher education students. Educators and the industry want to work closely together, but we all face challenges such as the lack of time and lack of structure. That is why events such as this meeting organised by Brainport are so important; they give us the opportunity to join the discussion and exchange valuable information," she said.
Wittenborg's CEO also highlighted that the meeting was inspiring and insightful in regard to the school's focus on preparing students for careers in the business sector.
Having started with a reception, the programme also featured multiple workshops, an info market and guided visits to companies. Attendees had the opportunity to delve into diverse topics, including teaching materials related to companies in the Brainport region, hybrid teaching methods and challenge-based learning.
The event was made possible by Brainport Development, Brainport Industries College and Brainport Industries, and coordinated by Emma Claessen.
WUP 13/11/2023
by Ulisses Sawczuk
©WUAS Press
372 words