A Journey of Self-Discovery: Wittenborg Graduate Starts New Job in the Netherlands
A Journey of Self-Discovery: Wittenborg Graduate Starts New Job in the Netherlands
Number of replies: 0
A Journey of Self-Discovery: Wittenborg Graduate Starts New Job in the Netherlands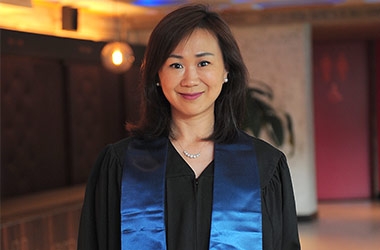 Yingping Li Encourages Students to Have a Positive Attitude and Develop Soft Skills
Although Yingping Li had worked for several years in the field of logistics while living in China, she felt the need to expand her knowledge and experience of an educational system that was completely different from the one she was familiar with. For this reason, Li decided to quit her job and move to the Netherlands to study for a bachelor's degree in Logistics & International Trade at Wittenborg University of Applied Sciences.
Having completed her programme in November 2021, she explains that she chose Wittenborg for various reasons. "At the time I made my decision, the COVID-19 pandemic was a serious issue, and because of the lockdowns and travel restrictions I felt I had to take action immediately because otherwise I would not be able to leave China. Wittenborg's flexible entry dates were convenient, and I was also attracted by the fact that the school is a very international environment. Plus, I had discovered, by reading some articles, that the school's CEO Maggie Feng is Chinese, and I found that really interesting."
According to Li, one of the things she likes most about the school is the fact that Wittenborg is an open and dynamic environment, where students are encouraged to actively search for knowledge. "I enjoyed the project weeks and group assignments we had to do; they provided us with opportunities to learn independently while also sharing our ideas and knowledge with the other people in the team. This is really important for your career because no matter which company you are working for, they need you to be independent and have good problem-solving skills, and I was able to develop these competencies at Wittenborg."
However, the graduate points out that, because the COVID-19-related restrictions were still in place when she was pursuing her degree, most of her activities were conducted online, and she missed being physically present at school and interacting with her classmates and lecturers. When the restrictive measures were lifted, in the summer of 2021, Li took the chance to travel around the Netherlands, exploring the country and discovering new places and people. "Since I had already worked as a logistics manager in China, I did not feel I needed to do an internship. Instead, I used my free time to travel and discover new things, because I knew that would be enriching for me," she highlights.
New Professional Horizons
In December 2021, shortly after completing her studies, Li was hired by ASML as a project lead. Currently, she is living in Rotterdam but works in Veldhoven. Although the graduate got her job through LinkedIn, she encourages other students to also connect and network with people in the offline world, because that will be helpful for their careers.
"I would advise students – and also professionals – to have a positive attitude and make the most of team projects and activities. Wittenborg provides students with plenty of group projects and this is very beneficial; and, in your free time, it is important to go out, socialise and improve your communication and negotiation skills," she stresses.
Li says that, at her current job, she has plenty of opportunities to apply the competencies she developed at Wittenborg. Nevertheless, she plans to go on learning new things. "I really enjoy being in the Netherlands and I intend to stay here and go on with my journey of self-discovery. You should not be arrogant, but you must know exactly what you want and focus on the big picture. Just being a smart student and getting the highest scores is not enough, you need to develop soft skills and life skills to be able to survive."
WUP 6/9/2022
by Ulisses Sawczuk
©WUAS Press