Wittenborg Comments on 'recruitment of international students in the news again'
Wittenborg Comments on 'recruitment of international students in the news again'
Number of replies: 0
Wittenborg Comments on 'recruitment of international students in the news again'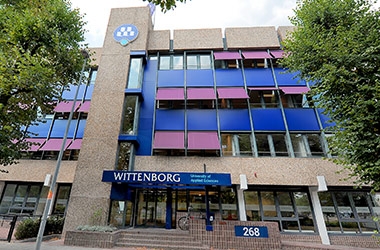 Public universities lax with applying for visas for students from 'risk countries'.
Last week the Dutch newspaper NRC reported on a problem faced by public universities of applied sciences regarding the recruitment of international students requiring a visa.
Importantly, it should be pointed out that the Dutch often refer to the 100,000+ 'international students' as one group, whilst around 75% of these are students from the European Union, mainly Germany, studying at Dutch universities for the same low tuition fee as Dutch students (fully funded by the Dutch taxpayer). Only 25% of international students are from outside the European Union and generally require a study visa, which in the Netherlands is arranged via the 'modern immigration act' for knowledge migrants, which lays responsibility for the document collection, checks and balances with the university.
According to the article in NRC, Dutch public universities of applied science (Wittenborg's neighbour Saxion UAS is mentioned) have been recruiting students from so-called 'risk countries', arranging the student visa and then seeing these students 'disappear'.
It is unclear why these universities are not required to follow rigorous checks, in agreement with the IND (Immigration and Naturalisation Service). At Wittenborg, we have highly extensive admissions procedures that require full collection of all documentation and at least two interviews generally carried out on the telephone of which the second one is crucial for issuing the acceptance/offer letter.
Procedures at Wittenborg
Wittenborg is specifically cautious in the recruitment of students from what can be seen as high-risk countries (countries from which students may travel to the Netherlands with other intentions than to study). For these students, extra checks are done, and not only are they required to pay the full first-year fee up front (something Wittenborg requires from all non-EU students needing a visa), students from countries such as Pakistan, Bangladesh and some areas of India are also required to pay the full one year living expenses to the school in advance. These living expenses will only be repaid in 12 monthly instalments. Furthermore, Wittenborg generally only allow students from these countries into master's programmes, or with credit transfer into the final year of a bachelor's. This approach has been informally agreed with the IND and has been in place for many years now.
Rejections
This strict admissions procedure results in about 50% of applications being rejected at the time of acceptance. For instance, in 2022 Wittenborg has had 781 completed applications, out of which 459 were given an offer to study at Wittenborg and 322 were rejected at the last interview (41% rejection rate). Rejections were for varying reasons, including poor motivation, obvious lack of further funds, and in some cases suspicions of interview staff that the candidate was not a genuine student.
In some cases, the admissions team suspects fraud in the official English examination and this has led to us no longer accepting the 'at-home' version of the Test of English as a Foreign Language (TOEFL), even though this is listed in the Code of Conduct for International Students in the Netherlands, and accepted by the IND. Instead, Wittenborg will only accept on-site versions of the TOEFL along with an impromptu written assessment and individual interviews with each candidate, regardless of country. Each rejection from Wittenborg will also contain individual feedback and will not be tied to a candidate's place of origin. Wittenborg documents all rejections in detail, as it documents (as far as possible) reasons for inevitable dropouts (study progress, personal, change of school). Currently, around 30% of students who start their bachelor's studies leave the programme without graduating, and for master's programmes this is around 10%.
It is our belief that if the public universities of applied sciences were to follow these procedures in a manner that limits the recruitment of students from high-risk countries, but rewards those who are genuinely looking to come and study in the Netherlands, these problems would be quickly resolved. However, the drive for public universities of applied sciences to recruit large numbers of students who are clearly not being screened properly does raise questions about the motive to do so or the quality of procedures at their international offices.
Another issue in the reporting of international students in the Dutch press, probably fuelled by interpretations of Ministry of Education and Nuffic publications, is this discrepancy between European students and non-European students. Often, the press report on universities being overwhelmed by international students and that this is causing problems in student housing and facilitating. Calls are made to limit the number of international students at public universities, which for EU students is not possible - simply put, EU students are actually just the same as Dutch students. They pay the very low tuition fee of around €2,000 for one year of study and are publicly funded by the Dutch taxpayer up to about 7 to €10,000 per year. They cannot be refused entry.
However, international EU students arrive at a university expecting and demanding the same treatment as international students from outside the EU. This puts an even bigger strain on university services and support systems funded by the Dutch taxpayer. It would be beneficial for the discussion to make this difference clear because there is no possibility for Dutch public universities to refuse entry for studies by EU students. On the other hand, the Dutch public universities are equally able to control the flow of non-EU students by implementing stricter application procedures and checks and balances.
Read our other article here
WUP 5/9/2022
by Peter Birdsall & Others
©WUAS Press
949 words