Wittenborg Organises Project Week Focused on Sustainability in Business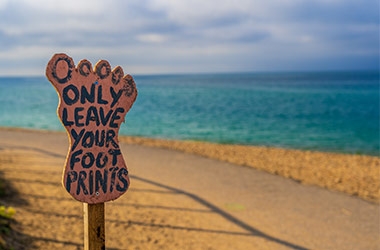 Activity Brought Together 125 Bachelor's Students from Three Programmes
To learn more about how companies can reduce their impact on the environment, 125 Wittenborg bachelor's students recently participated in a project week focused on sustainability in business. Conducted in Apeldoorn between 11 and 14 April, the activity was aimed at students of three programmes: International Business Administration, Hospitality Business Administration and Marketing, Communication & Information.
Having been divided into groups of four or five, participants were assigned different tasks according to the programme phase they are currently in. Phase 1 students were required to initially conduct research about sustainable business in general, later picking a real company as an example and analysing their sustainability practices. During the third part of the research, they chose a specific field of activity and investigated how businesses in this sector work towards reducing their ecological footprint.
For phase 2 students, the activity consisted of developing a sustainable business idea and writing a detailed report on it, including the Business Model Canvas. Among other conditions, the product or service to be developed should not exist yet and be aimed at serving a current gap, as well as using resources ecologically and incorporating sustainability in its marketing mix.
 
At the end of the project week, all teams were required to deliver a group report and a presentation. Additionally, each student had to create a self-evaluation poster focused on their participation in the activity, also addressing their strengths, weaknesses and personal development.
Developing New Skills
Sofiia Evdokimova, a phase 2 student pursuing an IBA degree in Economics and Management, mentioned that the business idea developed by her group is a sustainable travel agency, whose goal is to offer less environmentally and socially impactful options of destinations for tourists. "By doing this research, I learned that many organisations are implementing sustainable solutions to reduce greenhouse gas emissions and protect the environment. It was extremely interesting to work on new ideas and see how many options are already on the market, and this project week made me more environmentally conscious and encouraged me to take action to reduce negative environmental impacts."
Evdokimova added that the activity also helped her develop crucial skills such as working with the business model canvas and identifying unique value propositions to assure investors that the product will be viable and profitable.
Jilly Fox, also a phase 2 IBA student, specialising in Financial Services Management, said that her group was inspired by Tesla, Inc. to work on a solution targeted at reducing the use of fossil fuels through the combination of technology, innovation and sustainability. "Working as a mentor in this project week was new and challenging to me, but I managed to overcome the obstacles I faced with the help of my teammates. I tried to be the best mentor I could by using skills that I had learned in previous project weeks, and I was able to acquire new skills including leadership, planning and time management competencies," she stressed.
WUP 2/5/2022
by Ulisses Sawczuk
©WUAS Press