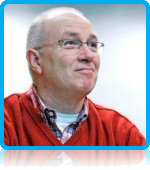 Henk Penseel on a Masters in Events Management
"There are not so many countries that offer Event Management as a master programme. Wittenborg University has been doing this since September 2012; together with the University of Brighton, which means that it's the only one of its kind in The Netherlands; this was one of the reasons for me to join. I was looking for an accredited master with a content that suited me. When I visited an education fair I met Maggie Feng, Chief Executive of Wittenborg University. She pushed me gently over the threshold of doubt.
And so far I don't regret it. In the first weeks we have had Dutch and English lecturers, the latter flying in from England. They are concerned that relatively not many academic books have been written about Event Management. That is not hard to understand, because many decision makers within the academic world have not studied Experience Marketing. It is all new to them.
Paul Schnabel, Director of the Dutch 'Cultureel Plan Bureau' (Cultural Planning Agency), which is funded by the government) stated in his keynote speech at the University of Applied Sciences in Utrecht in August 2011 that all these studies: Entertainment and Event Management ought to be stopped. However, if you look around, more and more event companies are organizing huge events that attract thousands of people. And to stick to The Netherlands and Great Britain, what about the marriage of Máxima with Prince Willem Alexander in the Amsterdam Arena and the Diamond Jubilee of Queen Elizabeth II, seen by millions of people? And don't forget the ceremonies around the Olympic Games in London. It seems that many academics don't yet see the importance of studying these huge events. Maybe this master will help to increase awareness of the impact that events have upon society in The Netherlands and all over the world."
Henk Penseel
Current Wittenborg student in Msc Events Management
---
Henk has been a lecturer at the Utrecht University of Applied Sciences since 1997, and before that has worked in the entertainment industry for the likes of Disney / ABC television, Sony Entertainment and the Dutch VARA television company. Since September, Henk has become a Wittenborg student. one of a small group of students who has started the new 1 year MSc International Event Management, uniquely offered in the Netherlands as a joint delivery programme by Wittenborg University of Applied Sciences and the University of Brighton. In the past years Henk Penseel has been a regular blogger at the Utrecht University of Applied Sciences, mainly writing in Dutch and will now continue his writing, also publishing on Wittenborg University Press (WUP).
WUP 28/09/12
Related Content: