Wittenborg's Success at a2 International Education Fairs in Türkiye
Wittenborg's Success at a2 International Education Fairs in Türkiye
Number of replies: 0
Wittenborg's Success at a2 International Education Fairs in Türkiye
https://www.wittenborg.eu/wittenborgs-success-a2-international-education-fairs-turkiye.htm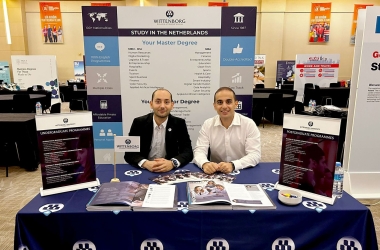 Wittenborg Representatives Attends the a2 International Education Fairs in Türkiye
This October, Wittenborg University of Applied Sciences continued its international engagements with a visit to Türkiye, represented by Deputy Student Registrar Sinan Colasan and Admissions Administrator Amin Nadervandi.
The duo attended the a2 International Education Fairs that took place from 7 to 11 October in Istanbul. This event presented a significant opportunity for Nadervandi and Colasan, much like the previous fairs held in Türkiye.
During the event, a2 Fairs brought together more than 7,000 students and over 100 international schools, with Wittenborg being the only educational institution from the Netherlands to participate.
Shedding light on the event's significance, Nadervandi said that many representatives from different institutions come together in Türkiye every year to showcase their institutions' information, such as brochures and international student application details.
"This means that prospective international students have the chance to interact with us face-to-face and learn more about our range of academic programmes."
A unique feature that sets Wittenborg apart, as highlighted by Nadervandi, is Wittenborg's six-entry-point block system, enabling students to enter their programmes six times a year. "Our main selling point is the flexibility we offer through our block system," he said.
A personal touch
Colasan, who hails from Türkiye, played a pivotal role in creating a personal touch that resonated with students. Colasan emphasised how his language skills bridged the communication gap between Turkish students and their parents. "It is a big advantage to communicate with the students in their language since they become relaxed and can ask anything they want. It is a great relief for them and particularly for the parents, who often do not speak English," he noted.
Another standout feature of Wittenborg's presence at the fair was the personalised attention offered to students. Colasan emphasised the significance of this approach. "We collected the email addresses of almost all students to send them follow-up emails. They also have our business cards. Last but not least, the candidates who are interested in joining Wittenborg already received a phone call from me."
Strengthening ties
The fair was not the only opportunity for Nadervandi and Colasan to promote Wittenborg. According to Colasan, they also conducted 12 meetings with the agencies that Wittenborg usually works with. "These fruitful meetings were a great opportunity to refresh our relations with them and to update them about current affairs at Wittenborg and in the Netherlands."
WUP 18/11/2023
by Erene Roux
©WUAS Press
423 words