Meet Wittenborg's Researchers: Prof. Dr Ad Kil
Meet Wittenborg's Researchers: Prof. Dr Ad Kil
Number of replies: 0
Meet Wittenborg's Researchers: Prof. Dr Ad Kil
https://www.wittenborg.eu/meet-wittenborgs-researchers-prof-dr-ad-kil.htm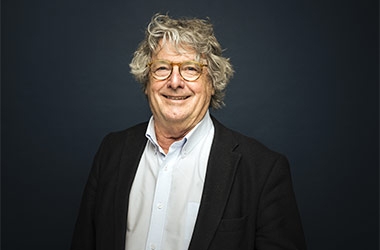 Promoting the applied research capacity of Wittenborg
Welcome to Wittenborg Research Centre's series of interviews with our research-active faculty members! To kick off this series, Wittenborg Research Centre spoke with Wittenborg's Vice President of Applied Research, Prof. Dr Ad Kil.
Prof. Dr Ad Kil is Vice President of Applied Research at Wittenborg. He holds a BA in Psychology, an MA in Social Pedagogy, a PGDip P&O, a PGDip CE (Corporate Education), an MA in Human Resources Management, an MBA and a PhD in Management Science and Business Administration. His PhD research was on competences of managing partners of law firms. Ad is also Emeritus Professor of Research Didactics for Professionals at Nyenrode Business University, he was Director of Executive PhD programmes at Nyenrode and Professor of Research at Nordic International Management Institute, China. He is a former HRD professor at Nottingham Law School, UK, and former Master of Conflict Management Research Manager, Maastricht University Law School. Ad was also a senior lecturer at the Dutch Bar Association (NOvA), where he developed the Advocacy Skills Programme, and Radboud University Law School, the Netherlands. His areas of research interest include research methodology, business research, family business, succession and wealth management and professional service firms. 
Beginning the Education and Research Journey
From when he began higher education in his early twenties, Ad has always been involved in the intersection of professional development and education simultaneously. Ad describes himself as not being an easy learner. "I learn best when I take something, and I do something with it." This basic principle triggered him throughout his higher education and professional career. Speaking about the role of education and research, Ad says, "At the end of the day, the aim of education and research is to get the myth out of it. Science is nothing other than demystification." Ad outlined that although he has done other types of work throughout his career, he was always nonetheless involved in lecturing and teaching, mainly in the domains of social sciences (psychology, sociology, organisational behaviours, etc.). He also spent some time involved in curriculum development, particularly developing professional training programmes for corporate bodies and institutions.
Publishing in Academia
Ad is no stranger to the field of academic publishing. He initially started publishing in the field of conflict management over twenty years ago. For the past ten years, he has been particularly active in academic publishing. "I have good publications and enough publications - last year (2022) I had six, and I have three already so far this year." The third edition of Praktijkgericht kwalitatief onderzoek (''Practice-oriented Qualitative Research''), which Ad co-authored, has recently been published. This bestselling book is a practical manual that outlines the methods of practice-oriented qualitative and deductive research and covers important topics including research design, theoretical framework/conceptual models, analysing and summarising research data, and writing up research results and findings.
Ad endorses collaborative effort in research and publication. "You combine knowledge, disciplines, brains, and time", he says. Ad also shared some of his perception of doctorate level research. ''You learn the game of research after your PhD – getting your PhD is just the beginning", he comments.
The Differences and Challenges of Applied Research
Ad describes how he has become more and more interested in applied research rather than theoretical research. He talks about the difference and distinction between the two. "The end product of theoretical research is a test or improvement or expounding of a theory. Whereas the end product of practice-based research is on finding solutions for real-life problems."
Ad identifies a social impact aspect to this and says that it is important for universities of applied sciences to take their research very seriously. "The effects are in practice, not in the head. Therefore, the research needs to be accountable to the real situation", says Ad. "The real-life solutions that applied research can provide have a direct impact on innovation".
According to Ad, the biggest challenge in applied science is to get people from the concrete to the abstract level of thinking. "Concrete thinking is a slow way of thinking; the more abstract your thinking, the faster, more mercurial it is.'' As such, there are many ways of solving issues. "Research is a forced reflection. There is always more than one solution, but there is also the best solution," Ad comments.
Advice for Future Research
Ad gives advice to both students and faculty as regards developing future research capacity at Wittenborg. Ad encourages students to learn how to conduct research, to follow themes and trends which are important within the industry one is studying or researching, to learn to do statistics and how to use research tools, and to get involved in research projects where possible. Ad encourages faculty to go one layer deeper in researching of their fields of interest, and to take a subject and see how it works in the context of education.
For further information about Prof. Dr Ad Kil, please see his official website, his Wittenborg website profile and his LinkedIn profile.
WUP 24/05/2023
by Selina White
©WUAS Press
860 words