News Overview Page Wittenborg CEO, EU Project Manager Attend Women's Day Breakfast
News Overview Page Wittenborg CEO, EU Project Manager Attend Women's Day Breakfast
Number of replies: 0
Wittenborg CEO, EU Project Manager Attend Women's Day Breakfast
Women forging ahead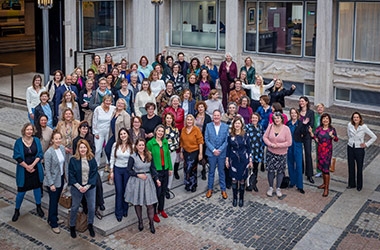 International Women's Day 2023 saw Wittenborg CEO Maggie Feng and EU Project Manager Aydan Ismayilova invited to the huis of Provincie Gelderland for a celebratory breakfast. The event served as a platform to discuss the empowerment of women, as well as obstacles faced by women in the professional world. The breakfast also provided an opportunity for local women leaders, including Feng, to share their experiences and perspectives. Feng, who is also a member of the SER Topvrouwen organisation, along with other local women leaders, shared insights on gender equality in the workplace and overcoming obstacles for women in leadership roles.
Attendees held engaging talks on women in the professional world, ranging from tackling unconscious bias and unequal pay to a lack of representation in top positions. Strategies to overcome these challenges and promote gender equality were also offered, including mentorship, education and training, and creating supportive work environments. Speaking on the event, Feng emphasises the importance of empowering women and creating equal opportunities for all. She states, "We need to work together to break down the barriers that prevent women from reaching their full potential. By empowering women, we will create a more balanced and inclusive society for all."
International Women's Day is celebrated annually on 8 March and honours the social, economic, cultural and political achievements of women. The global holiday is also a call for action regarding women's issues and gender equality. The day highlights the importance of challenging sexism, gender bias and inequality, calling on individuals and organisations to actively engage in strategies to reduce the challenges to success faced by women. Wittenborg thanks the organisers of the official breakfast for the invitation to such an important discussion. The school looks forward to continuing to positively impact local society, especially for both budding and established professional women.
WUP 17/03/2023
by Olivia Nelson
©WUAS Press
338 words