Wittenborg CEO Joins RaboBank Apeldoorn Board of Governance
https://www.wittenborg.eu/wittenborg-ceo-joins-rabobank-apeldoorn-board-governance.htm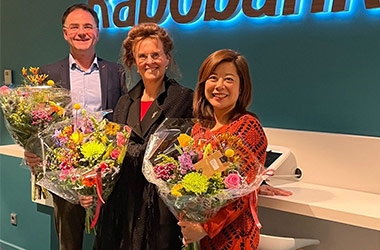 More women at the top
CEO of Wittenborg University of Applied Sciences and permanent member of the SER Topvrouwen organisation of female business leaders, Maggie Feng is joining RaboBank Apeldoorn's Board of Governance. Feng will be replacing former board member Krista Walter together with Feng's colleague and friend, Roel Welsing, Chairman of the Supervisory Board of Apeldoorn Partners. Feng announced the happy news last week to friends and colleagues. In this role, Feng will be able to expand her social and economic impact on the Apeldoorn region at a bank that has notable corporate social responsibility practices. She plans to meet with the RaboBank Apeldoorn team in late December to elaborate on her role with the bank, which will formally begin on 1 January, 2023.
Feng says that prior to receiving the new role at RaboBank, she had actually been encouraging others to apply for the position. "I learned about the role first from my colleague Barry van der Lagemaat, and started promoting it within my circle of top women," Feng recalls. "But then people started asking me, 'Why don't you apply?' and I thought to myself: actually, why not?" Feng says she decided to bite the bullet and commence with the rigorous application process for the role. "I had to submit myself to a background check to make sure there were no funny charges or such from my past. I passed the check, for the record!" She also considers it a learning opportunity for herself to discover how larger organisations like RaboBank operate. "For schools like Wittenborg who want to grow, we have to look to other groups who have been successful so far in their expansion. This really should be an interesting role for me."
As an SER Topvrouwen, she also places importance on holding a certain quota of top positions as a woman. "I try not to bite off more than I can chew, but I am always up to taking on a new challenge, to set an example for professional women in all stages of their lives and careers," she affirms. "I encourage all women to be ambitious, to challenge yourselves and above all else – learn to network."
'Don't let anybody stop you.'
Feng continues that she views her new role at RaboBank as an example for arbeidsmigranten (labour migrants) and other foreigners. "Look at me – look at what we can achieve. I had no idea I would be doing all of this back when I started my career," she reflects. "Don't let anybody stop you. If they say you don't belong, be strong and make a place for yourself." Feng is originally a Chinese national who owns Wittenborg University of Applied Sciences along with her husband, who is a UK national. "When I first got here, things were a lot different and way more difficult for people who are different. Now things are changing, and if we work for it, people with outside origins can find roles at all levels of society, and can impact things for the new generation of young workers."
When asked what makes RaboBank so special compared to other financial institutions, Feng stresses that societal impact comes first. "RaboBank is a cooperative bank that has robust quality assurance practices and has funds which benefit the good of society, even in times of uncertainty. And they are good at communicating that impact too," Feng says, highlighting the comprehensive reports published by RaboBank regularly. "Good research like this can even impact policy. RaboBank is such an important organisation for the whole of the Netherlands.
 
"In this role, I want to learn about how I can draw even closer to Apeldoorn society and make a positive difference. I am so excited about the next steps." The Wittenborg family wishes our CEO, Maggie, Feng much success in her newfound role.
WUP 06/12/2022
by Olivia Nelson
©WUAS Press