Summer Reading Recommendations
https://www.wittenborg.eu/summer-reading-recommendations.htm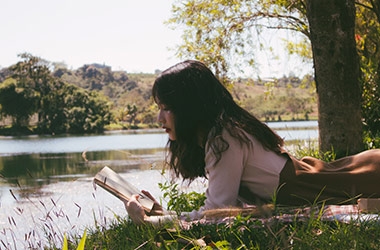 The summer break has arrived, a time which many people like to use to really get stuck into a good book. But with so many choices out there, it can be hard to pick something. That is why, in this article, we will present you with some reading recommendations - both fiction and non-fiction - from Wittenborg staff members.
Hanna Abdelwahab, Education Support Administrator, recommends 'The Lights in the Tunnel' by Martin Ford
"In this book, Ford addresses three misconceptions held by conventional economists: (1) technological advancements will always lead to more prosperity and more jobs, (2) automation affects only low-paying or low-skilled jobs, and (3) machines cannot replace humanity. Ford says that technological advancements will cause mass unemployment, that knowledge jobs are also facing the threats of being automated and that robots don't have to be humans to replace humans. Despite the heavy subject, it's an easy read and very compelling."
Iryna Bernatska, Corporate Relations Manager, recommends 'The Last Empress' by Anchee Min
"What do you call it when an official's daughter from the poorest province becomes the ruler of China? I would call it a miracle. This historical fiction novel, which features a strong female lead, introduced me to a new world of beautiful stories, created by real people and written by masters of the pen."
Maike Nuyken, HR Manager, recommends 'Grilled - Turning Adversaries into Allies to Change the Chicken Industry' by Leah Garcés
"This is a book about creating change and making an impact against all odds. It illustrates how business can be a force for good and how we sometimes need to adjust our mindset to be able to make progress. It is also the story of a strong and inspiring female leader. A very inspirational and hopeful book. I would recommend it to anyone interested in activism, sustainability, or CSR."
Vanessa de Oliveira, Associate Professor of Applied Sciences, recommends 'The Silent Patient' by Alex Michaelides
"Alicia, a famous painter who was married to a fashion photographer, stopped talking and started treatment in a psychiatric clinic. Theo Faber, a criminal psychotherapist, uses his curiosity, know-how, and determination to understand what lead her to that point. What results is a psychological thriller that blurs the boundaries between victim and villain. I recommend this if you like a good thriller with surprise twists."
Marius Zürcher, Marketing & Communications Project Manager, recommends 'The Tanning of America: How Hip-Hop Created a Culture That Rewrote the Rules of the New Economy' by Steve Stoute
"Although 'The Tanning of America' is theoretically a business book, it can also change your perspective on the world at large. At its core, the book is about how hip-hop culture, with its focus on authenticity and aspiration, fundamentally shaped the Millennial generation, and about what the implications of that are, given that Millennials are now are the most influential generation in the world. It is therefore an essential read if you want to understand the present and the future a little more. For marketers, its core lesson is one that I too like to highlight continuously: authenticity is everything."
Adeyemi Banjo, Senior Lecturer, recommends 'Kane and Abel' by Jeffery Archer
"This novel, a relaxing yet exciting and engaging read, chronicles the lives of two men born under very different circumstances, on two different continents, who meet with explosive consequences. It's a story about two very ambitious men, one born in the US and the other in Poland, how they navigate through life and marriage. It is about the challenges they face, and tough decisions they must make to survive, especially when their paths cross."
Myra Qiu, Process & Quality Manager, recommends the 'Remembrance of Earth's Past' series by Liu Cixin
"I highly recommend this amazing and deep sci-fi series, which covers things such as physics, astronomy, neurosciences, informatics, ecology, culture, military science, sociology, mathematics, psychology, and philosophy. The internal logic of the book is rigorous, and the author's encyclopaedic knowledge is impressive."
Ulisses Sawczuk, Copywriter & Journalist, recommends 'Meditations' by Marcus Aurelius
"This book contains a series of reflections on life that were written about 1,800 years ago by Roman emperor Marcus Aurelius. Apart from being an emperor, Marcus was trained in Stoic philosophy, and one of Stoicism's main purposes is to provide people with the tools to develop their virtues and face the challenges posed by life. The book contains plenty of useful advice on how to approach problems and hardships, as well as discussions on human nature and how it connects to the universe. Moreover, it is a fascinating work that enables the reader to get a glimpse into the mind of a historical character and see that human beings always have to overcome the same kinds of obstacles, no matter what era they live in."
Thi Ngoc Tram La, Research Centre Intern, recommends 'I am Gifted, so Are You' by Adam Khoo
"This book is both practical, as it teaches you the study techniques of the author (himself a brilliant student in his time), and inspirational. I read it in high school, and I believe it turned me from a decent student into a great one. It changed my life."
Peter Birdsall, President, recommends 'The Boys in the Butterflies' by James Birdsall
"This book, written by my late uncle James Birdsall, reflects on his and his brothers' experiences as refugees in England during the Second World War, when they were evacuated to the countryside to escape the bombing by the Nazis. The story sowed the seeds of my lifelong passion of nature and especially butterflies and moths; however, the story is relevant again as Europe is once more plunged into war and a refugee crisis after the Russian invasion of Ukraine."
Aydan Ismayilova, EU Project Coordinator, recommends 'The Secret Lives of Color' by Kassia St. Clair
"This book, which tells the stories of 75 different colours, is an easy but nevertheless profound read. It will make you see colours from a totally new perspective. It will also provide you with plenty of new ice-breaking stories to tell."
WUP 30/7/2022
by Marius Zürcher
©WUAS Press