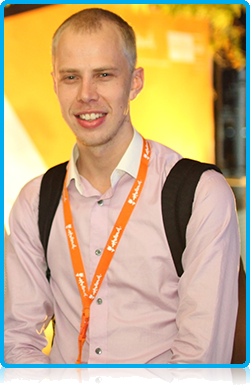 Wittenborg alumnus now sales engineer in Vietnam
As part of an interview-series with alumni from Wittenborg University, we caught up with Ben Visser, a Dutchman who is a sales engineer in Ho Chi Minh City, Vietnam. Ben regularly hangs out with old classmates from Wittenborg who also live and work in the city.
Chào ông Ben. Where in the Netherlands do you come from?
The Rotterdam area!
Which year did you graduate from Wittenborg University and which degree did you earn?
I graduated in 2012 and graduated with an IBA in Economics and Management.
Why did you choose to study at Wittenborg?
Before my studies at Wittenborg I followed a UK BTEC program (Dutch MBO level) at the Albeda College in Rotterdam. This BTEC diploma granted a first year exemption for the IBA program at Wittenborg. Besides that, I was drawn by the international character of the school. To me Wittenborg was the best choice.
How did your study and career path develop since graduating from Wittenborg?
Since my graduation I moved to Vietnam where I work for a Dutch company called Eriks/Econosto. Here I am responsible for internal sales handling. This involves a lot of co-ordination and communication worldwide.
What has been the extent of your involvement with Wittenborg since you graduated?
I recently joined an alumni event of Vietnamese students who graduated in The Netherlands. I met some former students and one of my former teachers from Wittenborg gave a seminar. Other than that there has been little contact with other students and teachers or the school.
Do you think it is important to be involved, or at the very least, keep some contact with one's alma mater after graduation?
I think that to a certain extent it is good to remain in touch, albeit occasionally. People should never forget where they came from and how they got where they are now.
Would you be interested in joining a ...
Read the rest of this topic
(918 words)